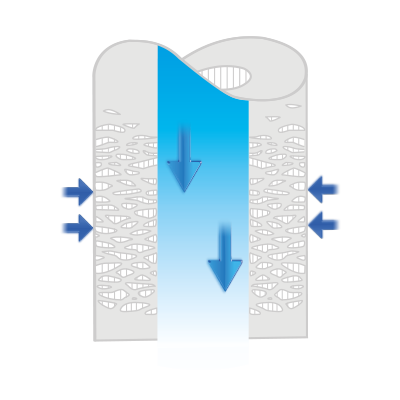 Tubular membrane microfiltration offers several advantages compared to other filtration methods:
Versatility
Tubular membranes are the most versatile.
They are used for:
multiple applications: purification, clarification, protein separation, sterilisation
various procedures: reverse osmosis (porosity less than 0.001µm), nanofiltration (porosity: 0.001 - 0.010µm), ultrafiltration (porosity: 0.01 0.10 µm) and microfiltration (porosity: 0.1 - 10µm)
multiple sectors: chemical industry, food processing, drinking water treatment, analysis, healthcare, hotel and catering, etc.
Reliable
Microfiltration at 0.1µm ensures that bacteria and other waterborne microorganisms are completely eliminated, with the exception of viruses (which are generally smaller than 0.1µm).
The reliability of tubular membranes for bacterial sterilisation is guaranteed by the standard ASTM F 838-20 (the test assesses the membrane's ability to retain Brevundimonas diminuta, the smallest known bacterial species which measures 0.3µm). In the hospital environment, tubular membrane microfiltration is the most effective treatment process for delivering bacteriologically controlled water at the point-of-use.
Compact
The hollow fibre membrane is very compact, allowing low-volume devices to contain a large filtration surface area.
AQUATOOLS filters are suitable for use with any mixer or tap (even those with a low drop height).
The reduced size of the filters, particularly their height, considerably reduces the risk of bacterial retro-contamination on the spout of the mixer or tap.
Superior performance - Comfort and easy to maintain
AQUATOOLS' tubular membranes provide clear advantages in terms of user comfort and ease of maintenance:
a very large filtration surface: the highly compact fibre results in the filtration of a larger volume of water.
a higher flow rate at the outlet.
a good tolerance to clogging: suspended matter remains on the surface of the tubular membrane, which reduces clogging and extends the filter's lifespan.
good resistance to physico-chemical variations in the water: hard or soft water; a high concentration of chlorine or disinfectants; alkaline or acidic pH value; high pressures and temperatures in the network.
a high bacterial retention capacity which extends the lifespan. AQUATOOLS point-of-use filters have a lifespan of up to 4 months.
a bacteriostatic surface action aimed at limiting cross-contamination and retro-contamination.
a lower cost suitable for regular renewal (single-use product).
easy to maintain: shower and tap filters can be changed quickly thanks to a universal screw-in connector and/or a push-fit connector which ensures a sturdy, water-tight seal. Using the Filt'ray Scan mobile phone App, you can track your maintenance activity across all points-of-use.